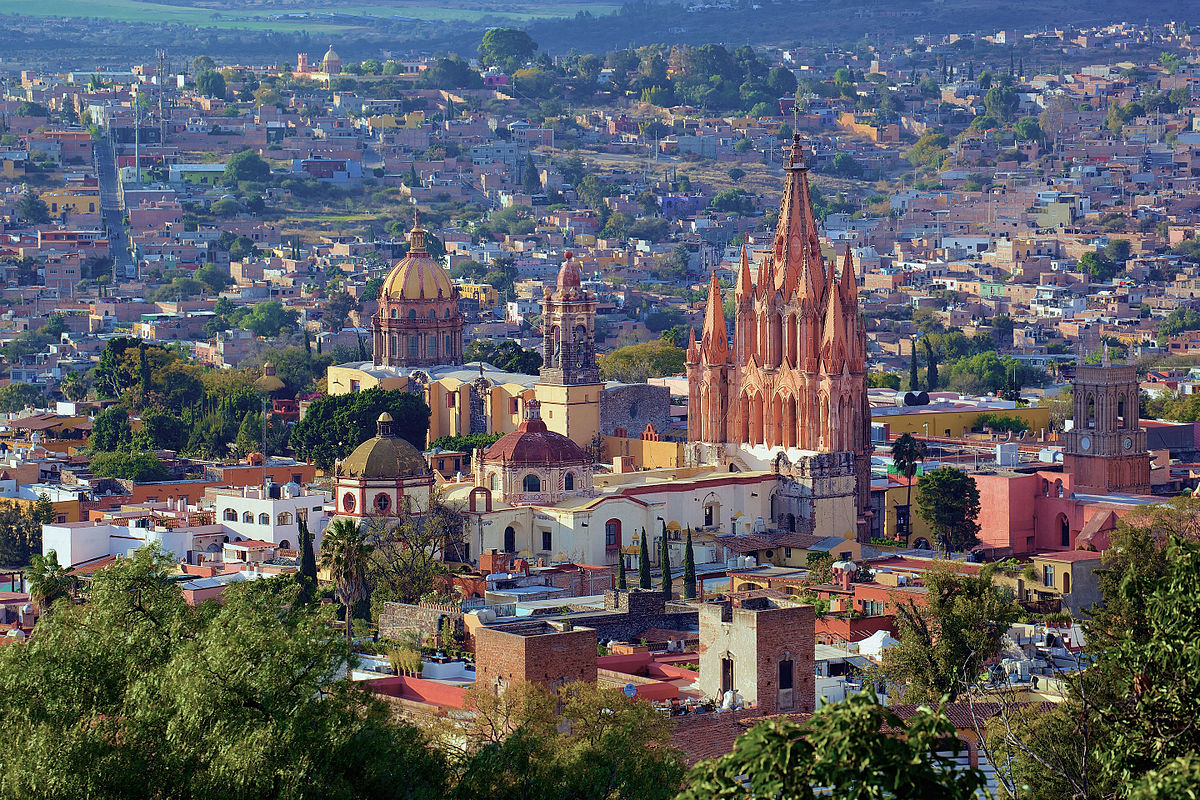 An advanced cold wax workshop with jerry mclaughlin
in san miguel de allende, mexico
October 14 - 18, 2019
San Miguel de Allende, Mexico
ABOUT JERRY's SAN MIGUEL workshops:
All workshops are at least five days. This gives participants plenty of time to paint, practice, and incorporate the workshop topics.
All workshops include a one-on-one coaching/mentoring session with Jerry. Artists have the opportunity to address technical, artistic, or professional development issues specific to them.
Pre-workshop meet and greet. The evening before the workshop begins, all participants are invited to a meet and greet at Jerry's home. Cocktails and light snacks served.
Unless otherwise stated, Jerry's workshops take place at Estudio Paloma. On workshop days, there is no need to worry about lunch or travel logistics. Pick up and drop off between San Miguel city center and the studio, as well as a full, home-cooked lunch and wine are included in the price.
To make travel more convenient, artist essentially need to bring only their tools, paints, creativity, and enthusiasm. Jerry provides all the following supplies:
Gamblin cold wax medium

Odorless mineral spirits

Arches oil paper

Painting surfaces (Multimedia Artboard)

Paper towels

Waxed, non-stick, and a variety of other papers

Texture materials, PanPastels, dry pigments, sand

Palette paper

Inks and other water-soluble media

and more!
In summer 2019, Jerry officially moves to San Miguel de Allende, Mexico. San Miguel is a beautiful, culturally diverse city of about 170,000 people, located in the state of Guanajuato. In the early to mid-twentieth century it was 'discovered' by foreign artists who moved there and developed an artistic culture around institutes such as Instituto Allende and Escuela de Bellas Artes. Since that time art has been a central theme in San Miguel life.
The climate in San Miguel is very mild. There are many delicious restaurants and plenty of beautiful hotels and Airbnb's for lodging. And because of the vibrant art scene, there are literally dozens of art galleries in walking distance.
ABOUT THIS ADVANCED WORKSHOP
This workshop is for artists with significant prior experience using cold wax medium who want to take their work to a deeper level.
In order to express yourself successfully as an artist you must have both technical skills and a deep understanding of what you want to say and how you want to say it. It is the melding of all of these that leads to strong, provocative work. In this workshop participants will focus both on technical mastery and expressive use of color, shape, and texture. In addition to reviewing traditional and advanced cold wax techniques, to help participants think more deeply about their work, Jerry will offer special presentations and focused one-on-one consultations. During this workshop artists will be challenged to push deeper into both the "how" of art and the "why".
Before the workshop, participants will be asked to begin to think about the workshop content. Jerry will send materials approximately one month in advance so that you can begin learning even before the workshop starts. Artists are encouraged to bring work in progress and to create new work during the workshop. During your 1-on-1 session with Jerry you can address: your inner critic, keeping creative energy, getting to the studio, creative blocks, business aspects of art, and more. The choice is yours.
Jerry will cover ideas, techniques, and other material from Cold Wax Medium: Techniques, Concepts & Conversations. Bringing a copy of the book to the workshop is strongly recommended.
**Because this is an advanced class not focused on basic techniques, to assure that the workshop is a good fit, participants must have taken a prior workshop with Jerry or Rebecca or must submit 6-8 cold wax works for review.**
Jerry believes deeply that technical mastery is imperative for successful expression. Therefore, these topics are covered in depth:
color: aspects of color contrast including value, warm/cool, intensity/saturation/chroma, neutral colors; primary colors, secondary colors, complimentary colors, analogous colors; high-key and low-key paintings

working thoughtfully with opacity and transparency in your work

complex layering of cold wax

mastering texture and controlling your surface

mastering your brayer, squeegee, and palette knife

borders, boundaries, and edges in your work: making your surface feel unified

overall aspects of contrast in painting: including value, texture, color, shape, scale, and more
Jerry McLaughlin, MD, initially trained as a pediatric critical care physician. He began his artistic career as a fine art photographer, but realizing he had always wanted to be a painter, he abandoned photography and started painting. Although encaustic was his initial medium, once he discovered cold wax and oils, he quickly transitioned and has never gone back. His work has been collected across the US and internationally and has appeared in many publications. He works with HG Contemporary Gallery in New York, DZINE Gallery in San Francisco, and ARTERRA in Seattle.
In 2017, Jerry, with co-author Rebecca Crowell, published Cold Wax Medium: Techniques, Concepts & Conversations. It is the first ever comprehensive book exploring the myriad techniques and ways artists are using cold wax medium. Jerry is passionate about teaching, and he holds a certificate in adult education from the University of Washington. His strength lies in identifying and addressing the individual needs of his students and helping them analyze and develop solutions to the difficulties they are encountering. Jerry maintains an active artist mentoring and coaching practice, working with artists around the world.
He lives in San Miguel de Allende with his husband Mike and their dog Bert.